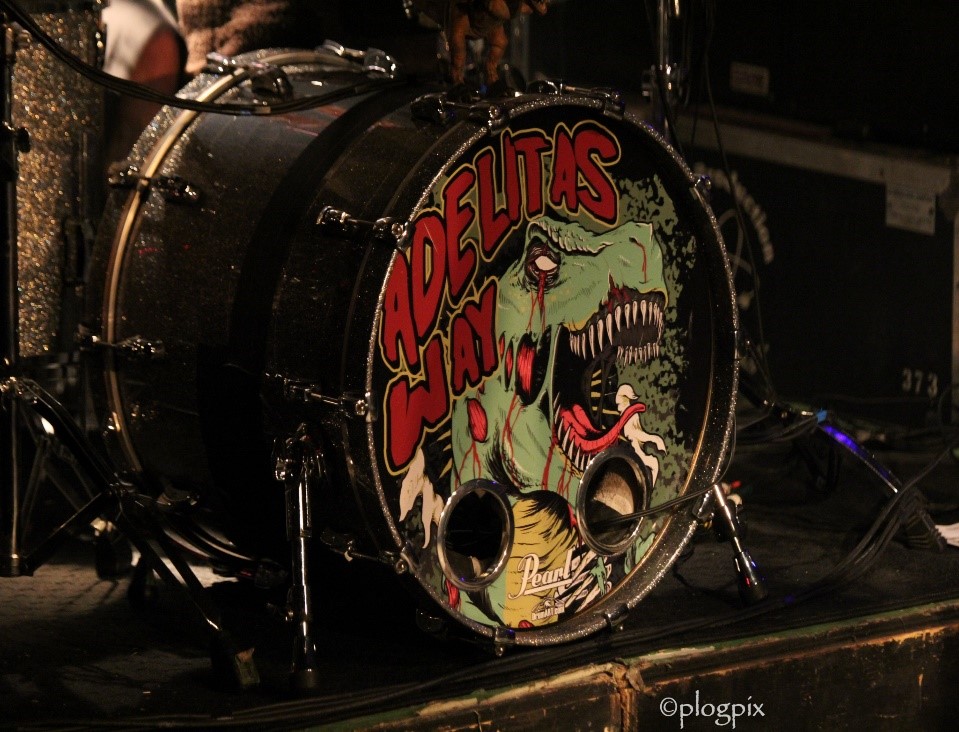 Adelitas Way/Failure Anthem/Through Fire - The Masquerade, Atlanta, GA 1/16
By: Leslie Elder Rogers
After an awesome interview with Rick, I was looking forward to the show just ahead that would feature Through Fire, Failure Anthem and of course, Adelitas Way headlining. It started off with Through Fire. I've followed Jessie Saint and the band for a while now and expected nothing less than a great show. They completely rocked and the crowd seemed very excited about them. Once Failure Anthem took the stage, the fans were pumped and ready. I first heard Failure Anthem when Octane debuted their release "Paralyzed", off their upcoming album
First World Problems
. I was hooked immediately. Immediately I learned that JD can push his voice between limits from the powerful strain to the vividly rich and untamed melodic tone. He has an undeniable clarity in his vocals. I believe this band has a huge career ahead of them.
Adelitas Way got their turn next and wow, what a show it was. Before he hit the stage, I could see Rick peering in and out of the band dressing room door, appearing to be ready for his shot on stage. As he left the room, he stepped behind the stage jumping up and down, shaking his hands around slightly, obviously pumping himself up for the crowd that awaited him anxiously. I rather appreciated seeing someone so used to the scene who still appeared to have to work out the nerves no matter how seasoned they may be. He seemed to thrust himself on stage suddenly and as it would happen, the mic did have some technical difficulties at first as it would fade in and out during the first couple of verses of "Sick". He and the band handled it like the pros that they are and it didn't create any delays. I don't even know how many people in the crowd realized it happened because he was flawless in how he maneuvered through it. The fans kept roaring and Rick kept racing back and forth across the stage giving them exactly what they wanted as he belted out "Criticize" and "Scream". He romances the screaming ladies with his winks and smiles showing his acknowledgement of their presence. The man clearly can work a crowd to his advantage. Andrew , Robert and Tre' got to show off their talent as Rick left the stage for a short while. The guitar riffs and drum beats were kick ass during their showcase. It says a lot about someone that can make you feel a song, and in "Hurt", he did just that. Of course, "Bad Reputation" was expectedly well received by everyone further proving exactly what he told me earlier in the night, that it would be a game changer for them. I believe he may be right. So may great songs were played and sang tonight. "Dog on a Leash" was a crowd pleaser with it's energy and fight. Two of my personal favorites came next with "All Falls Down" and "Alive". These songs give you chills when you hear them on the radio but the live versions, with the emotion that Rick puts into his performance, that's an incredible thing to witness and it truly brings the songs to life. "Alive" has sparked more fan tattoos than just about any song I think I've ever heard. I can't say that I haven't thought about it myself. The lyrics are extremely powerful and expressive and many fans relate so deeply to them. "Filthy Heart" created quite a stir as fans decided to dance on the tops of speakers right behind me. Excitement unmistakably filled this venue and only grew throughout the night as each song was played. The last two songs of the night were "The Collapse" and "Invincible". The momentum of the band was as strong as the show came to an end as it was from the beginning as they closed out the show with some fan-fucking-tastic chords and melodies after Rick left the stage. So I say this, tonight we were taken on a exhilarating ride that started with their debut, self titled album
Adelitas Way
. Our journey didn't stop there as they drove us through their follow up album,
Home School Valedictorian,
as well as stopping briefly on
Stuck
and
Deserve This
, with a quick catapult into the present/future as they showed what is in store on their upcoming album
Getaway
. It is evident that Adelitas Way has what it takes to make it in this industry. They are the complete package and the show they put on is without question 100% present day rock and roll with grit, a lot of heart, and strong determination.
Official Adelitas Way Site
Official Adelitas Way Facebook
BUY Getaway