Accept/Sabaton/Scarred - The Galaxy - Santa Ana, CA 5/11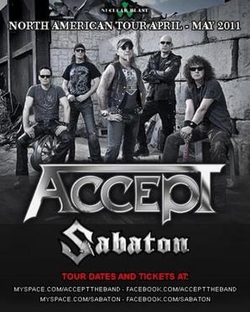 I am down with an old school metal show and as far as I was concerned it does not get any better than this. A rejuvenated Accept with an amazing new singer in tow by the name of Mark Tornillo swarmed into the Galaxy of Santa Ana and proceeded to blow the place apart. Before these proceedings there were a few bands of note that opened the show and they are just as important to the scene as Accept.
Kicking off the show were So. Cal metal vets Scarred and their intense version of Power Metal. Supporting their EP release Haunting Memories, they took the stage and set it ablaze with an inferno of metal. John Toscano, guitar shredder and founder of Scarred, set the tone for the show with his amazing guitar work as the band plowed through their EP of unbelievable material. Eric Claro's voice resonates power especially with the title cut and First Encounter. This band is set to make that leap to the national stage and the new material they are working on will surely make that happen.
The international acts took the stage next and bounding to the stage with full blown energy was Sweden's own Sabaton. If you have not yet heard of Sabaton, let me forewarn you that their records deal in war and with the last few albums, Coat Of Arms and The Art Of War, deal in World War II specifically. So this militant band being who they are come out decked in Camouflage pants an black shirts as if they were about to raid the audience and in a way they did but with their music. They blasted into Ghost Division from The Art Of War and the crowd lit into them as if they were being depraved. Feeding off the blistering crowd they continued on with White Death from the killer new record, Coat Of Arms. Now this is the first time I had seen this band and I was blown away at how powerful they were and they just got better as their set wore on.
Panzerkampf, another track from the war laden Art Of War blew my mind, this meticulous band knows their war history and it shows in their writing. If you have yet to see them live you are sorely missing out and even though it seems as if they played a shortened set they still had the crowd on their feet wanting more.
Accept, the German legends, were up next and closed the show in riveting fashion. In the past few decades they have had their ups and downs but with the amazing new singer in tow, Mark Tornillo, they finally have a lineup that can be depended on to deliver, stay together and deliver is what they do. With Blood Of The Nations being an out of the box instant classic the tour would have to be up to that par and it was, in spades with so many new tracks as well as the "need to play" classics jammed into the setlist. They hit the stage in a heavy blitz with their massive classic to be from Blood Of The Nations entitled Teutonic Terror and the sold out Galaxy went ballistic. The new album was still being shoved down the throats with Bucketful Of Hate, the unrealistically dark cut that could enrage even the more peaceful human. The classics, as said, were well represented with Metal Heart, Fast As A Shark, Neon Nights, Breaker, Starlight as well as of course, Balls To The Wall. They did slip in Pandemic from Blood Of The Nations which is the spreading of the metal disease and that is what they did at the Galaxy that night. Accept came out as if they were a new band starting out and did not let up to the end, defying the years they have been out and they totally kicked everybody's ass. If you have yet to pick up Blood Of the Nations that should be priority #1 for you as a metal fan…
OFFICIAL ACCEPT SITE
OFFICIAL SABATON SITE
OFFICIAL SCARRED SITE
---